We accept: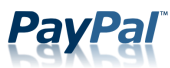 Simple shipping costs
Orders below 250 euro = 9 euro shipping. Over 250 euro = free shipping!
Terms and conditions
Even though all of our items are made to meet very high quality and safety standards, the use of any purchased items is at your own risk. SteelBound.co.uk can not be held responsible for the improper or careless use of these items, or use of these items against a person's will. We do not accept any liability for damages, injuries or death resulting from the use of any of our items. Please play safe, sane, and consensual!